CONTRAfluran Anaesthetic Gas Capture System
CONTRAfluran Anaesthetic Gas Capture System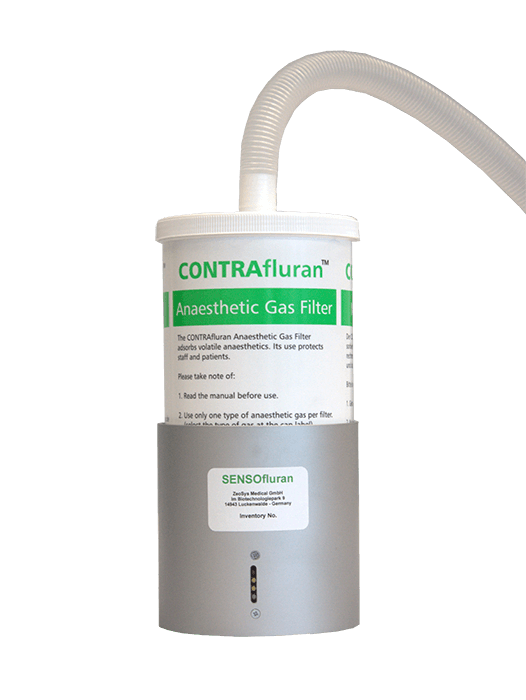 The CONTRAfluran Anaesthetic Gas Capture System helps reduce hospitals' carbon footprint by collecting exhaled desflurane and sevoflurane in the surgical suite.  
For patients receiving inhaled anaesthesia, a fraction is metabolised; the rest is exhaled and vented into the atmosphere. The CONTRAfluran system allows operating rooms to instead capture the excess1 gas and reduce the hospital's carbon footprint. 
The CONTRAfluran canister contains a highly porous material that absorbs and retains anaesthetic gas. The SENSOfluran unit is compact and attaches directly to the anaesthesia machine.  One canister holds approximately 240mL (one bottle) of a mix of both desflurane and sevoflurane. Once canisters are full, Baxter collects them to extract, separate and sterilise the captured gas to use as an active pharmaceutical ingredient for new anaesthetic gas (once regulatory approval is granted).
Clinical and Post-Operative Benefits
The CONTRAfluran Anaesthetic Gas Capture System is designed to capture exhaled desflurane, an inhaled anaesthetic agent that facilitates precise intraoperative control2,3,4 and rapid, predictable early recovery in a majority of patients and procedures, helping to improve efficiency of post-anaesthesia care.5,6,7,8,9,10,11 The CONTRAfluran system can also capture sevoflurane, another critically important and widely used agent in performing surgical procedures.
Product Details
Simple Use with Economic Benefits
The system is simple to install, and space efficient.
The sensor unit attaches directly to an anaesthesia machine and presents a visual signal and an audible alert when the canister is full.
It provides hospitals the flexibility to use gas where an anaesthetic gas scavenging system (AGSS) is not available*,and it offers a measurable reduction in energy consumption and costs associated with an AGSS.12
Aluminum Anaesthesia Bottles Are Fully Recyclable
Desflurane and sevoflurane are packaged in lightweight, virtually unbreakable13,14 recyclable aluminium containers.
The aluminium container is smaller than glass bottles,15 which may help conserve space on pharmacy shelves.
Aluminium containers may reduce safety hazards that come with cracked or broken glass bottles, including the risk of anaesthesia leaks or exposure.
Aluminium containers help facilitate smooth handling for the filling of vaporisers, and may result in easier transport and lower waste management costs.
To explore CONTRAfluran further please visit: www.anaestheticgascapture.co.uk
Intended Use Information
For safe and proper use of products mentioned herein, please refer to the appropriate Instructions for Use or Operator's manual.
Desflurane Prescribing Information